Servicios Móviles Empresariales(EMS)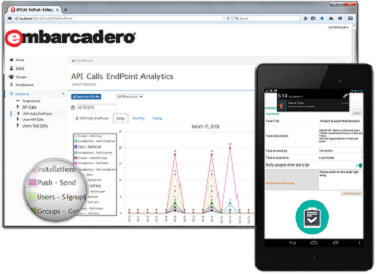 Turnkey Middleware for Interconnected and Distributed Apps
Servicios de Enterprise Mobility (EMS) es una nueva solución llave en mano para aplicaciones interconectadas, distribuidas de hoy en día , que ofrece una fácil de implementar servidor de middleware que aloja módulos API de acceso a datos a medida y se pueden cargar . Se basa en tecnologías abiertas y estándares, incluyendo las llamadas HTTP de REST y formatos de datos JSON , y proporciona los principales motores de bases de datos SQL , junto con una base de datos cifrada incrustado y SQL Server . Con su gestión de usuarios , la autenticación , la analítica de la API , y el apoyo de notificación de inserción para Android y el IOS , servicios Enterprise Mobility es ideal para permitir el acceso seguro desde aplicaciones móviles a bases de datos empresariales . EMS es una solución middleware que no tiene estado , reparador , escalable y segura ..
Características
New EMS Features
Los EMS han sido mejorados con características nuevas y actualizadas. El servidor de notificaciones Push para iOS y Android permite a los desarrolladores entregar notificaciones en función de eventos al dispositivo del usuario final, mediante los servicios EMS.
FireDAC / EMS integration improvements, specifically focused on updates management
EMS external credentials support
EMS external credentials support
Database Connection Pooling and other EMS optimizations
EMSClientAPI component to simplify EMS client side development
Enhanced User, groups, sessions, and API calls analytics and reporting using a web based interface using the EMS Console
Export data from EMS Console to .CSV files
Improved analytics for users and groups
EMS client application to manage user accounts
A Turnkey Middleware Solution
Unlike a custom server built from the ground up, Enterprise Mobility Services offers a solution and an infrastructure that is ready to go, significantly reducing development and configuration time. The server provides support for user and group management with authentication. EMS is self-hosted either on premises or in a private cloud in the safest place for an Enterprise, behind the firewall. On-premises hosting delivers direct access to your company databases and the full protection of your company firewall, while custom private cloud hosting would offer you scalability and more bandwidth utility.
Custom API Management
With EMS, easily manage custom APIs exposed through standard REST/JSON interfaces. Simply create an EMS package using either Object Pascal or C++, register a specific resource (with a matching URI location), and write code to handle the corresponding requests. Accessing those APIs is incredibly easy with wizards and ready-to-use components, making the development process extremely smooth and well integrated.
Enterprise Data Access
FireDAC, the universal enterprise database access layer, offers extreme performance and flexibility. With FireDAC, you can access Oracle, MS SQL Server, Sybase, MySQL, Informix, and dozens of other supported databases. While EMS makes it easy to access your existing data and your existing Enterprise SQL database, it includes an InterBase server license for secure relational data storage. This provides a lot of flexibility: with EMS you can use the included InterBase or select any other supported Enterprise SQL database. InterBase ToGo, the embedded relational datastore provides a secure, encrypted solution on iOS and Android devices, as well as desktop operating systems. With its table and column-level encryption support, InterBase ToGo is included with the EMS license.
Realtime Analytics
EMS automatically provides real-time analytics to track your users' activity and the REST APIs they are calling. Navigate the users and group lists to view the online daily activity and history. View overall REST API usage at the yearly, monthly, or daily level, and drill down on individual REST resources, including individual REST API calls. Track how your customers are using the applications and which of the services and data sources they are working with over time.
Contacte con ABOX para consultar precios